Handmade Moroccan Mosaic Table 2108-06
Regular price
$599.00 USD
Regular price
Sale price
$599.00 USD
Unit price
per
Handmade Moroccan Mosaic Table 2108-06
Handmade eight-pointed star mosaic table. This is an authentic Moroccan mosaic design from Fez, Morocco.

This table is supplied with a complimentary folding metal base
Sizes: 
Tabletop : 24" or 600mm diameter
Table Base: 30" or 760mm high
Can be made in coffee table height 16" approx. or 400 mm for an additional fee.
Colors:  Lime Green, Forest Green, Celeste Blue, Moroccan White, and French blue. Table base color is black 
Availability: In stock ships within 5 to 10 days
Returns: This sale is final and we will not accept any returns. 
Questions: sales@mymoroccantile.com 
Interested in a custom size, colors, or shape? Send us an e-mail for a quote at sales@mymoroccantile.com


This Moroccan mosaic tile tabletop is 100% Handmade by highly skilled artisans in Morocco using the same techniques used to make tile and mosaics in the infamous Alhambra Palace in Granada, Spain in the 13th century.   
How is this tile made
Share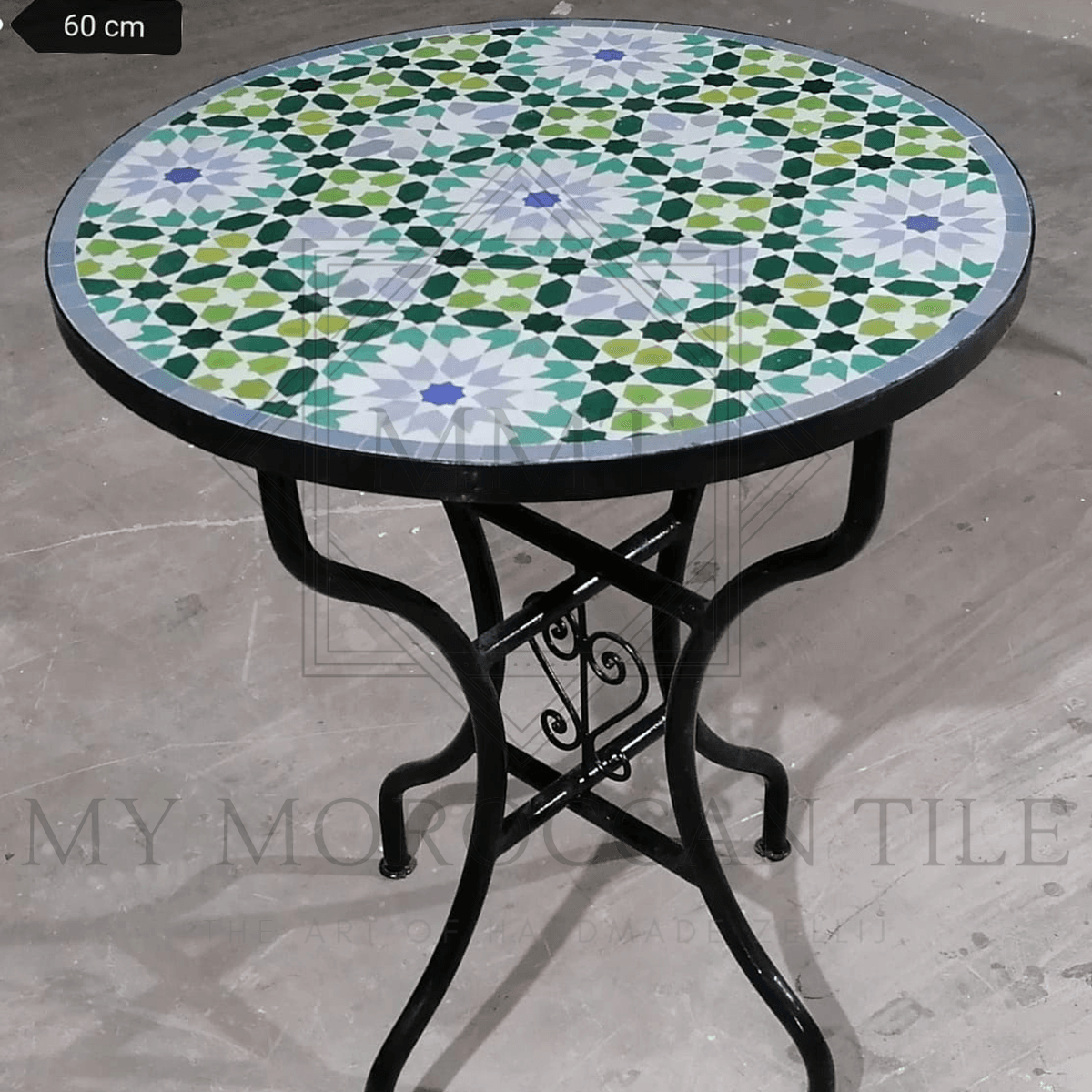 Production Process
When you order Moroccan tiles, it is always custom made for you.
Understanding the basics of Zellij production process will help you plan ahead of time and will make you appreciate more your product knowing what it takes to make it for you.
Tile is handmade in Morocco with a production timeline between 2 to 8 weeks depending on the nature of the mosaics, season of the year, production log, etc

Samples' approval process easily takes people an average of 2 to 3 weeks unless it's all virtual with photos. 

Shipping

Ocean freight is the most economical solution, however it does take an average of 4 to 8 weeks approx. and it works best for clients who order in advance.
Express air shipping is the best available option for air shipping currently.  It is door to door with a timeline of 5 to 7 days.
01 - Preparation of the clay
| | |
| --- | --- |
| |  Once collected from the quarries of Fez, the clay is mixed in large basins and let sit for at least 48 hours until a homogeneous paste is formed. |
02 - Sun drying and shaping
| | |
| --- | --- |
|   | The clay is shaped into rectangle with wooden molds measuring of 10 cm by 20 cm or 4" by 8". These bricks of clay are then dried in the hot sun for a few days. |
03 - Molding
 

Once sundried, the rough clay bricks are manually cut in two distinct shapes, 5 cm by 15 cm or 2" by 6 " for the terracotta family and 10 cm by 10 com or 4" by 4" for the zellij family. The later is the base for all our handcut ceramic and mosaic tiles.

 
04 - Baking
| | |
| --- | --- |
|   | The shaped and formed clay is sundried for a second time in the shade, then baked firstly at low temperature. Once the moisture is completely out, the kiln is fired at high temperature to bake the tile. This process takes a few weeks. |
First production step results in two product families:
05 - Glazing
| | |
| --- | --- |
|   | Natural terracotta and Zellij are both glazed using the same old techniques of dip glazing. |
06 - Baking (again!)
| | |
| --- | --- |
|   | After the glaze has been applied, the tiles are stacked like a deck of cards inside our traditional beehive kiln for a second baking. |
07 - Manual cutting
| | |
| --- | --- |
|   | The final glazed tiles are then cut into specific shapes from basic square tiles to more complex geometric shapes. |
08 - Mosaic assembly
| | |
| --- | --- |
|   | This is the last step of production where your mosaics are assembled in either interlocking units or custom fitted based on client's choice. |
09 - Shipping
| | |
| --- | --- |
|   | This is the last step of production where your mosaics are scheduled for shipping after cleaning, quality control and packing​. |